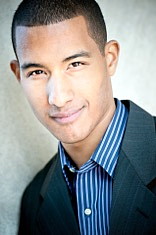 Jamie Hillman (b. 1982) is a multi-faceted musician who is active as a conductor, singer, pianist, composer, and teacher. He currently serves as an Associate Conductor with the Worcester Children's Chorus and as Associate Director of Music at Grace Chapel in Lexington, MA. As a faculty member of Boston University's Metropolitan College, he is currently piloting a comprehensive choral music program at a medium-high security prison in Massachusetts. From 2006-2008, he was a professor of music at Prairie Bible College in Three Hills, Alberta, where he taught voice and vocal pedagogy, and conducted C(h)oeurs des femmes and the Masterworks Chorale & Orchestra.
Hillman is an examiner for Conservatory Canada and has adjudicated at festivals in Alberta, New Brunswick, Ontario, and Illinois, and at international festivals in Southeast Asia. His co-editorial work includes numerous editions of multicultural choral pieces published by Earthsongs and Hinshaw. Hillman holds an ARCT diploma from the Royal Conservatory of Music, degrees from Western University and the University of Illinois, and is currently a doctoral candidate at Boston University. Hillman's choral compositions have been performed in Asia, Europe, and North America by ensembles including the Amadeus Choir of Greater Toronto, Boston Children's Chorus, C(h)oeur des femmes, Les Choristes, Oakville Children's Choir, Rosa Cantorum, and numerous other academic, church, and community choirs. www.jamiehillman.net
Who Would Have Thought?
by Jamie Hillman  
SSA  with piano  –   CP 1206   – 3:20


This beautiful Christmas song is suitable for women's or children's choir.
"Who Would Have Thought?", won the SSA category of the Amadeus Christmas Carol and Chanukah Songwriting Competition in 2002. It was premiered the same year by the Amadeus Choir of Greater Toronto (Lydia Adams, conductor; Eleanor Daley, piano) at the George Weston Recital Hall in Toronto. Since then, it has been discussed in an article in the International Journal of Education & the Arts (http://www.ijea.org/v6n10/v6n10.pdf), recorded by Les Choristes of the University of Western Ontario  (Echo: Choral Creativity in Motion, 2004), and performed by numerous other choirs including the women of the Nathaniel Dett Chorale, C(h)oeur des femmes, the Chatham-Kent Treble Choir, and Rosa Cantorum