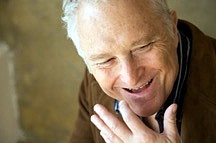 Ian Tamblyn (b. 1947) in is a Canadian folk music singer-songwriter and record producer, adventurer, and playwright.  Born and raised in Fort William, Ontario, Tamblyn studied at Trent University, graduating in 1971 and subsequently settling in Chelsea, Quebec. He released a demo cassette, Moose Tracks, the same year. In 1976 he released his full-length debut album, Ian Tamblyn, which won a Juno Award for Best Folk Music Recording that year. Since that time he has completed over 25 recording projects. He plays guitar, piano, hammered dulcimer, and synthesizer, as well as singing. Tamblyn has recorded a number of instrumental music albums inspired by his adventure travels to remote places such as the north shore of Lake Superior, the Nahanni River, and the Chukchi Sea, and his participation in scientific research expeditions to locations such as Greenland and Antarctica. 
Woodsmoke and Oranges
by Ian Tamblyn,  arr. Rebecca Campbell
SAB a cappella    –    CP 1303   – 4:00   

SAA a cappella    –    CP 1283
This folk song has "classic Canadiana" written all over it.  It has been tried and ed by Dr Elroy Friesen and the University of Manitoba Singers.  Elroy says that the audiences LOVED it wherever they went. The Jubilate Vocal Ensemble is taking it to the Kathaumixw International Choral Festival. 
Canada is the 2nd largest country on earth.  It's hard to believe that the humble canoe was a major mode of transportation and exploration across such a vast territory during those formative years. This song, arranged by Rebecca Campbell captures the imagination.