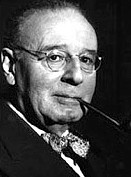 Healey Willan, was born in England in 1880. He moved to Toronto in 1913 as Head of the Theory Department at the Toronto Conservatory of Music. From 1921 until his death he was Precentor of the church of St. Mary Magdalene, Toronto, which became a mecca for church musicians. He was appointed Lecturer and Examiner for the University of Toronto in 1914, being appointed Professor of Music in 1937. In 1934 he founded the Tudor Singers, which he conducted until 1939. An influential teacher, Willan was also active as the University Organist. In 1953 he was commissioned to write an anthem for the coronation of Elizabeth II in Westminster Abbey (O Lord Our Governor). 
More than half of his output of 800 compositions was sacred works for choir which include many anthems, hymn anthems and mass settings. His choral music composed for St. Mary Magdalene has had a significant influence on composers of all denominations. His major works signaled the acceptance in Canada of large scale composition. Frequently known as the "Dean of Canadian Composers", he was made a Companion of the Order of Canada at its inception in 1967. He passed away in Toronto in 1968.
Magnificat
by Healey Willan 
TTBB    –    CP 1074   – 4:10
One of Healey Willan's previously unpublished works for Men's choir – found in a piano bench by Healey's sister; Chor Leoni discovered this manuscript and instantly fell in love. Written in a traditional chant-like style with unison lines alternating with lush harmonic passages.