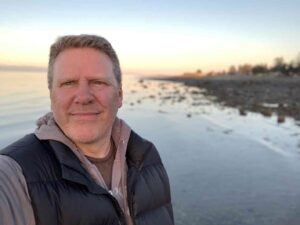 Graeme Wearmouth was born in London, England and moved with his family to Whitehorse, Yukon when he was six years old. A graduate of the University of British Columbia, he completed his Bachelor of Music degree with a major in Composition. While at U.B.C., Graeme studied composition with Dr. Stephen Chatman and film scoring with Michael Conway Baker.
In 1992 Graeme's film score for "Si'lu", won the award for "Best Original Score" at the Persistence of Vision Film Festival. That same year, Graeme was also commissioned to write "Magnetic North", a choral work that was premiered at the opening of the Yukon Arts Centre in Whitehorse, and later published on the Elmer Iseler Choral Series. Graeme has been commissioned by the Edmonton choir, Kokopelli on two occasions and has scored many short films, the most successful being "Centigrade", that won the Leo Award for Best Short Film in 2007.
Christmas Lullaby
by Graeme Wearmouth
SATB a cappella – KH 019  – duration: 2:55
Soft, sweet and lush harmonies characterize this lovely lullaby. "Christmas Lullaby", was commissioned in 1990 by the Festival Singers Quartet and first performed at the Vancouver Playhouse the same year. Listen to the stellar rendition by the Elmer Iseler Singers.