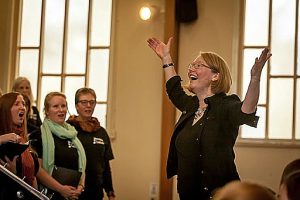 Gerda Blok-Wilson is a composer, conductor and music educator who enjoys "musiking" with imaginative and creative singers. Her motto is "If you can talk, you can sing!" Gerda has written several musicals and many choral compositions for developing and intermediate level choirs to encourage the growth of emerging choral skills. In recent years, she has had international success with advanced choral repertoire and welcomes commissions from children's and adult choirs.  Her works have been premiered and recorded by choral groups including Britain's Gesualdo Six, Scotland's Voces Inauditae, Halifax's Choirs for Change, New York's Composer's Choir, Vancouver's Chor Leoni Men's Choir, BC Boys Choir, St Patrick Regional High School Choirs, Vancouver Cansing Choirs (Vancouver) and Prince George's Bel Canto, Northern Voices and Cantata Singers.
Lullay, My Liking
by Gerda Blok-Wilson
SATB a cappella (with divisi) – CP 2113 – duration 3:10
This is a gorgeous composition on a timeless text.  It could be a special jewel in your Christmas program. Long contrapuntal lines, intuitive voice leading, sumptuous moments with lush chords.  Your choir will love it.
O Little Rose, O Dark Rose
by Gerda Blok-Wilson
TTBB a cappella – CP 1848 – duration 3:55
SATB a cappella – CP 1849 – duration 3:55
I chose "O Little Rose, O Dark Rose" for both its sweet and dark elements. Robert's poem uses garden imagery to paint a story about a conventional person seduced by the appearance of the free spirited and non-committal "Carmenesque" person. 
The composition was recorded by Britain's Gesualdo Six for their CD ("FADING"). 
 "We are really pleased to have stumbled across an absolute gem" (Gesualdo Six) and "an achingly beautiful setting of 'O Little Rose, O Dark Rose." (Stefan Hintersteininger – Canadian Music Centre).