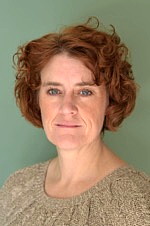 Georgina Craig (b. 1967) began her musical education in the UK as a flautist but whilst studying for a degree in Music and English Literature she began vocal training and in the final year of her degree course, voice became her main instrument.   She also studied composition with Dr Derek Hyde and after obtaining a first class honours degree, she went on to complete a postgraduate performers' course at Trinity College of Music, London, where she studied voice under Elizabeth Hawes and John Kitchener.    Whilst living and working in the UK, she was a member of the all-female vocal ensemble Lyrica and also performed with Kantando, both singing and playing the flute. Georgina moved to Calgary in 2005 with her husband and young family.  Here she had a private teaching practice and worked as an early years' educator. She was a member of both the award winning Spiritus Chamber Choir and the professional chamber choir Luminous Voices.  
Georgina particularly enjoys composing for the voice.  In 2009 she was a winner of the Calgary NATS Contemporary Art Song Composing Competition and in 2011 her composition was chosen as the winner of the vocal category for Canadian National Music Week. Georgina currently lives on Vancouver Island and is the Community Outreach Teacher for Victoria Conservatory of Music.
I Have a Bonnet
arr. Georgina Craig
SSA – a cappella  –   CP 1156   – 1:15
"I first came across this folk song at the age of 7 in a school recorder group.  I loved the little polka even then, was immediately drawn to it and quickly committed it to memory.  The melody continued to haunt me throughout my school years as it seemed to be a popular performance choice with music teachers – to both sing and play.  To me, the lyrics call for a fun and fresh approach.   With the opportunity for playful ostinatos and imitation, "I Have a Bonnet" seems to be an obvious choice to arrange for women's voices."  Georgina
From Beyond
by Georgina Craig
SATB – a cappella  –   CP 1278   – 2:40
"Here there is balm for every tender heart…"  The beautiful poem by Duncan Campbell Scott is given a lovely setting by Georgina. Intuitive voice leading, long undulating phrases and lush harmonies bring this text to life.  suitable for all fine choirs – listen to this excellent recording.
Go, Let Me Weep
by Georgina Craig
SATB – a cappella  –   CP 1675   – 5:45
The Irish poet, Thomas Moore, couldn't have imagined that his work would have such a poignant setting.