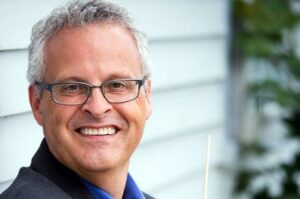 Gary Ewer is a composer, arranger, conductor and clinician. A native of Halifax, Nova Scotia, he has been a conductor of Symphony Nova Scotia's Education Outreach program, bringing symphonic music to Halifax area schools. His choral and instrumental compositions and arrangements have been performed by The Elmer Isler Singers, Symphony Nova Scotia, Halifax Camerata Singers, and many other ensembles. He has an extensive background in choral conducting as director of Dalhousie University's Collegium Cantorum, as well as former director of The Dalhousie Chorale and Chamber Choir. He has also most recently been a Senior Instructor of Music at Dalhousie, teaching aural skills, music theory, orchestration and choral techniques.
He is the author of "Easy Music Theory by Gary Ewer" – a self-directed video-based music theory program – and a suite of songwriting manuals that have been used in Nova Scotia's secondary school music curriculum. Gary continues to be active as an adjudicator and clinician throughout Canada's Maritime provinces, and has adjudicated at music festivals in Ontario and Alberta.
The Blackbird
arr. Gary Ewer
SA with piano – KH 007 – duration 3:15
SATB with piano – KH 006
This is beautiful folksong melody collected by Dr. Helen Creighton in Lunenberg County, Nova Scotia.  It is in 3/4 time telling the story of a sailor, his maiden, and the pain of separation.
Peggy Gordon
arr. Gary Ewer
SATB with piano – KH 084 – duration 2:55
This folksong was collected by Dr. Helen Creighton in Nova Scotia. It tells the story of a young man, deeply in love with young Peggy Gordon, but his affections, to his great sadness, are not shared.
O Peggy Gordon, you are my darling
Come sit you down upon my knee
And tell to me the very reason
Why I am slighted so by thee