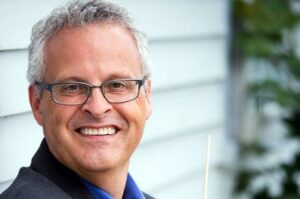 Gary Ewer is a composer, arranger, conductor and clinician. A native of Halifax, Nova Scotia, he has been a conductor of Symphony Nova Scotia's Education Outreach program, bringing symphonic music to Halifax area schools. His choral and instrumental compositions and arrangements have been performed by The Elmer Isler Singers, Symphony Nova Scotia, Halifax Camerata Singers, and many other ensembles. He has an extensive background in choral conducting as director of Dalhousie University's Collegium Cantorum, as well as former director of The Dalhousie Chorale and Chamber Choir. He has also most recently been a Senior Instructor of Music at Dalhousie, teaching aural skills, music theory, orchestration and choral techniques.
He is the author of "Easy Music Theory by Gary Ewer" – a self-directed video-based music theory program – and a suite of songwriting manuals that have been used in Nova Scotia's secondary school music curriculum. Gary continues to be active as an adjudicator and clinician throughout Canada's Maritime provinces, and has adjudicated at music festivals in Ontario and Alberta.
The Blackbird
arr. Gary Ewer
SA with piano – KH 007 – duration 3:15
SATB with piano – KH 006
This is beautiful folksong melody collected by Dr. Helen Creighton in Lunenberg County, Nova Scotia.  It is in 3/4 time telling the story of a sailor, his maiden, and the pain of separation.
Crocodile Song
arr. Gary Ewer
Unison or 2 part with piano – KH 026 – duration 2:35

This is a fun song for children – although any choir would have a great time singing the story. Some claim that the song has Canadian origins although one must ask how a crocodile could ever figure into Canadian imagery! A moose, maybe! Considering the size of this creature, it must be an allegory.
The crocodile, you see, was not of the common race,
For I had to get up a very tall pine for to look into his face,
Go Tell it on the Mountain
arr. Gary Ewer
SATB with piano – KH 038 – duration 2:25

This famous spiritual has been around for at least 200 years. Gary has created an energetic and really approachable rendition.
Go tell it on the mountain, over the hills and ev'rywhere,
Go tell it on the mountain that Jesus Christ is born!
Live in Friendship
arr. Gary Ewer
SATB with piano – KH 062 – duration 3:25

The poetry of Bliss Carmen (1861-1929) has been the inspiration for many composers.
Live in friendship with the seasons,
And their skill will make thee whole.
Take the bird's call and the brook's note
for their tonic to the soul.
Peggy Gordon
arr. Gary Ewer
SATB with piano – KH 084 – duration 2:55
This folksong was collected by Dr. Helen Creighton in Nova Scotia. It tells the story of a young man, deeply in love with young Peggy Gordon, but his affections, to his great sadness, are not shared.
O Peggy Gordon, you are my darling
Come sit you down upon my knee
And tell to me the very reason
Why I am slighted so by thee
Sing the Winter Away
by Robbie Smith
arr. Gary Ewer
SATB  with piano – CP 1937 – duration 3:35
SSA  with piano – CP 1982
Oh, the winter frost is settling in
And I know the snows will soon begin
Into the air the leaves are swirled
The world goes 'round – 'round goes the world
But we've got mem'ries so kind and clear
Gathered in warmer times to bring good cheer
To fill our hearts and souls with mirthful song
To keep us safe and glad all winter long
And we'll sing the winter away, sing the winter away
Though it may be cold and gray outside it's warm within
So let's sing the winter away, sing the winter away
In our hearts we'll dance and play and soon it'll be spring
Siod Mar Chaidh an Càl a Dholaidh
arr. Gary Ewer
SATB with piano – KH 093 – duration 2:00
Do you love an up-tempo gigue that makes people want to dance? You've come to the right place.
That's how the cabbage was spoiled
This is how the cabbage was spoiled
The flour was lying on the bottom of the pot
and the woman of the house was dancing