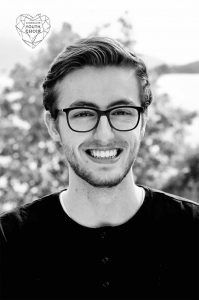 Emile Deedes-Vincke (b. 1999) grew up in North Vancouver and is currently a second-year student at Capilano University. He is studying for his Classical Music Diploma as a voice major. After joining his first choir in 2016 at Seycove Secondary School he wrote his first piece near the end of that school year. He quickly fell in love with the choral world and found his passion for composition. The Seycove Secondary Chamber Choir, the Capilano University Singers and the Kamloops based choir Serious Options have all recently performed his composition, Winter, which is featured in a CBC documentary called "High Arctic Haulers". Capilano University Singers and Festival Chorus also took his Laudate Dominum on their 2019 summer tour to Italy. Laudate Singers sang Emile's first commissioned piece Ignite in May of 2019. Ignite has been featured in the annual Cap Choral Intensive and is going on tour with the CapU Singers in February 2019. He currently (2020) sings with the Capilano University Singers and the Vancouver Youth choir, and is composer in residence for Laudate Singers.
Ignite
by Emile Deedes-Vincke
SATB – with piano – CP 1817 – duration 4:30
From despair to hope, from darkness to light; commissioned by Laudate Singers, Ignite is a joy to sing. This original composition and poem is intended to inspire listeners with with a message of hope. Singers and listeners will reflect on the light within each of us.
The piano part falls nicely under the fingers. With long lines, a beautiful melody, and intuitive voice leading, this song is a great choice for choirs of all ages and abilities.