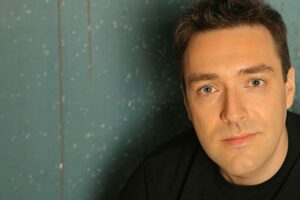 Composer and librettist Dean Burry is a storyteller.  In addition to his extensive work in the opera and concert music fields, he has become one of the world's leading composers of children's opera, his works receiving performances across Canada, the United States, Europe, China and Brazil.   At over 600 performances, his opera The Brothers Grimm is one of the most produced operas of the twenty-first century. 
Major compositions include The Hobbit, The Scorpions' Sting, The Mummers' Masque and the CBC serial radio opera Baby Kintyre. His most recent compositions include Il Giudizio di Pigmalione, the song-cycle for tenor Sea Variations, Tracing Colville for Orchestra and Shanawdithit which won the 2020 Dora Mavor Moore Award for Outstanding New Opera.
Burry was the 2011 recipient of the Ontario Arts Foundation's Louis Applebaum Composers Award for excellence in the field of music for young people. In 2018 he became an Assistant Professor at the Dan School of Drama and Music at Queen's University in Kingston, Ontario
Fisherman's Blessing
by Dean Burry
TTBB a cappella – CP 1919 – 1:25
The ocean holds such an immense sense of mystery and wonder for so many of us.  While it can instil a feeling of calm at times, the people who make their living from the fishing industry know well that the possibility for tragedy is ever-present.  Fisherman's Blessing offers peace and strength as we pass through life's storms.