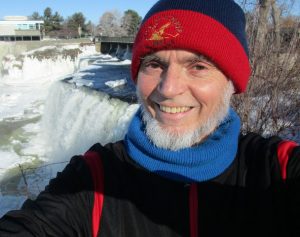 David Rain (b.1952) is a "late in life" composer, having caught the composing bug in his mid-60s.
Professionally, he received English and Law degrees from UBC and a Masters in Development Studies from the University of Dar es Salaam in Tanzania. For 40 years, he worked in the fields of international development and refugee and immigrant support, the last 12 years as a fundraiser.
David has been an amateur singer most of his life, singing with the Christ Church Cathedral boys choir in Vancouver in the 1960s and with the Vancouver Bach Choir in the 1970s. After a 10-year hiatus while living in Tanzania, he settled in Ottawa, where he has been singing with the a cappella choir The Stairwell Carollers since 1993.
He began composing in his spare time in 2015 and has written or arranged over 20 songs since. Four of his songs have been sung publicly, including "Ave Maria," now published by Cypress Choral Music.
David is a great fan of Mahler, Bruckner and pioneering Medieval/Renaissance composers. He donates 50% of his income as a composer to two Ottawa charities: the Ottawa Community Immigrant Services Organization and Orkidstra, an "El Sistema"-inspired program for kids from under-served communities.
Ave Maria
arr. David Rain
SATB a cappella – CP 1837 – 4:15
For decades, my favourite piano piece was a Brahms Intermezzo, Opus 118, No. 2. One day, while playing it on the piano, I thought I could hear a choir singing along! Five years later, after much experimentation, a brand new "Ave Maria" was born. Nicol Matt and his amazing Chamber Choir of Europe gave the world premiere performances in Austria and Germany in July 2019. I was thrilled to have the "Ave Maria" sung at a very special concert honouring John Rutter, who received the European Church Music Award at the European Church Music Festival in Schwäbisch Gmünd, Germany.