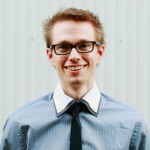 David Archer (b. 1985) creates captivating original music to share with his community. Based in British Columbia, he has written music for choir, orchestra, piano, chamber ensembles, and short films. An experienced choral musician, David has recently composed commissioned works for choirs including Vox Humana, and The Linden Singers of Victoria, under the direction of Brian Wismath. David's choral music has also been performed by Canadian Chamber Choir, Jubilate Vocal Ensemble, University of Alberta Concert Choir, and Viva Youth Choirs, among others in Canada and the USA.
Grant Us Peace
by David Archer
SATB with piano    –  CP 1322   – 5:20
Inspired by the struggles of family members through stroke and Alzheimer's, this piece is a reflection on fond memories with loved ones. David's poignant poem precedes his setting of a "Dona Nobis Pacem" in English.  Multiple entrances, echoing motifs and intuitive voice leading support melodic lines.