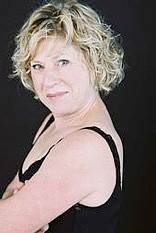 Corlynn Hanney, the daughter of a violinist and pianist, is a true-blue third generation Vancouverite. She holds a Bachelor of Music degree from UBC. Although a seasoned choral singer, Corlynn's professional career has been spent mainly as a session singer. Her voice has been heard on commercials for Pontiac, Datsun, Lotteries, Kodak, Kraft, Milk and Air Canada. She has appeared on recordings of Leonard Cohen, Ann Mortifee, The Payolas, Al Martino, The Fifth Dimension, Sherri Ulrich and the sound track for Midnight Cowboy. As a member of the Jimmy Joyce Singers, Corlynn appeared on the Tim Conway Show, the Smothers Brothers Show, with Nancy Sinatra and the Muppets. She is a founding member of the Elektra Women's Choir and currently sings with the Phoenix Chamber Choir. 
Songwriting has always been a big part of Corlynn's life. She claims that writing is cheaper than therapy. Her song "Heaven In Your Arms" reached number six on the Canadian Charts. She was the winner of the West Coast Songwriter's competition with the song, "It Oughta Be Me". Her Christmas songs have become traditional seasonal fare for many choirs. Corlynn is currently completing a CD of original, spiritually-based songs. Corlynn Hanney maintains a busy schedule in her home studio where she teaches non-classical voice.
Carol of the Stable Dog
by Corlynn Hanney
SATB  –   CP 1037   – 3:45  


This songs brings the manger scene to life with Corlynn's vivid imagination. A sweet and simple Christmas carol that is modern but timeless in its message. 
Child of Wonder
by Corlynn Hanney
SATB  –   CP 1419   – 2:05  


Remember Corlynn's "Christmas Angel"? This Christmas song is about a child who is not the Christ baby. Corlynn sings about a wonderful child who is experiencing the wonder of Christmas.
Christmas Angel
by Corlynn Hanney
SATB    –   CP 1004   – 3:00  


SSAA    –   CP 1021
TTBB    –   CP 1022   – 3:15
SAB      –   CP 1023
A perennial favourite with Vancouver audiences, Corlynn's sweet and gentle Christmas lullaby has elements of traditional and popular music. It is sure to be a hit with your audiences too.