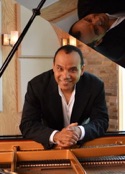 Claudel Callender (b. 1961) holds a Doctorate in Voice Performance from the Faculty of Music of « l'Université de Montréal ».  He performed major works by Handel, Mozart, Vivaldi etc., as a conductor as well as a singer. As a composer, his « Mass for Forgiveness », written after the 9-11 tragedy, was first presented at the « Festival international de Lanaudière » and later for the centennial festivities of the St-Joseph Oratory in Montreal by Vox Luminosa, a professional vocal ensemble he founded in 2004. The Ensemble performed the Montreal premiere of Gilles Vigneault's « Grand Messe » and many other major choral works in Quebec and in Ontario. Claudel Callender worked with major artists of the Quebec musical scene including Gregory Charles, Jean-Pierre Ferland, Robert Marien, Natalie Choquette, etc.  In 2012, he launched « Presence » his first solo album as pianist and composer accompanied by the renowned string quartet Claudel Canimex. Dr. Callender has taught voice and choral singing at the McGill Conservatory of Music, at CEGEP de Lanaudière «Joliette » and at L'UQAM.
Musicien polyvalent (chanteur, pianiste, compositeur, pédagogue, conférencier et chef de chœur), Claudel Callender détient un doctorat en interprétation vocale de la Faculté de Musique de l'Université de Mon­tréal. Il a enseigné au Conservatoire McGill, au Cégep de Lanaudière et à L'UQAM. Il est fréquemment invité à donner des classes de maître et des conférences. En 2004, il fonde l'ensemble vocal professionnel Vox Luminosa avec lequel il interprète les grandes œuvres du répertoire choral et notamment sa Messe du Pardon, enregistrée en 2008 sous l'étiquette Productions XXI / Dep-Universal. En 2012, il lançait son premier album-solo intitulé Présenceconstitué de compositions originales pour piano accompagnées du prestigieux Quatuor Claudel-Canimex. Directeur musical des Chan­teurs de la Place Bourget depuis 2012, il a dirigé ces derniers lors de la première européenne de la Grand-Messe de Gilles Vigneault et Bruno Fecteau à Rome en juin 2014. À l'automne 2014, il devenait le Directeur Général de la Société musicale Fernand-Lindsay-Opus 130. En 2016, il obtenait le Grand Prix Desjardins de la culture (musique) pour Lanaudière. Depuis 2017, il est directeur-fondateur du Choeur d'Enfants Vox Luminosa.
visit productionsclaudelcallender.com to purchase the recording – Messe du Pardon
L'étoile bleue
by Claudel Callender
SATB with piano or organ – –   CP 1737   – 3:45  


Cantique l'étoile bleue is a choral piece for a SATB choir, a soloist and organ accompaniment written on an original text depicting the nativity of Christ. It invites seekers to collect themselves and find inner peace and guidance through the symbol of the Star which led the meek to their saviour some two thousand years ago.s.