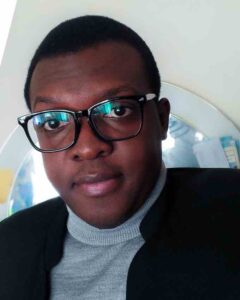 A native of Port-au-Prince Haiti, Christopher Ducasse attended Holy Trinity Music School where he learned voice, violin, and piano. Christopher became a member of the Philharmonic Orchestra of Holy Trinity in 2007 and conducted their main choir "Les Petits Chanteurs" for a few years beginning in 2011. He was a BLUME HAITI Scholar in the Haitian student exchange program at Lawrence University in 2015, and in 2017 he joined Silver Lake College of the Holy Family to get a Bachelor of Arts in Music and a self-designed minor in Education. Christopher is currently getting a master's in music in Choral Conducting at McGill University in Montreal, Canada under the supervision of Dr. Jean-Sebastien Vallée.
Christopher was the Winner of the WCDA Conducting Competition in 2018. He has also composed vocal and instrumental pieces that have been performed by various groups, most notably Les Petits Chanteurs and the Philharmonic Orchestra of Holy Trinity Music School in Haiti, the Concordia University Orchestra, the Northern Valley Youth Orchestra, the Silver Lake College, Fox Valley Symphony Orchestra in Appleton Wisconsin, and other universities across the United-States. Christopher sings baritone, in addition to play piano and violin, and does some photography as a hobby.
Agnus Dei
by Christopher Ducasse
SATB a cappella – CP 2064 – duration 2:45
This classic text from the mass has been set by many composers for centuries. Christopher brings a grandeur to the text with long melodic lines in sweet spot vocal registers – very approachable.  The music has an impressive build to a golden-mean climax. The piano accompaniment flows and supports the singers. Singers and listeners will love this contribution to the music world.
Sanctus-Benedictus
by Christopher Ducasse
SATB a cappella – CP 2065 – duration 5:40
blurb needed …..