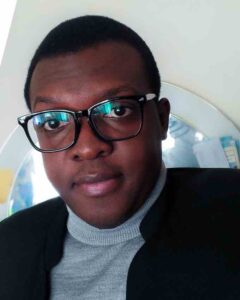 Christopher Ducasse
, a highly accomplished musician and conductor from Port-au-Prince, Haiti, is known for his exceptional talent and dedication to choral music. He began his musical journey at the Holy Trinity Music School, studying voice, violin, and piano. In 2007, Christopher joined the esteemed Philharmonic Orchestra of Holy Trinity, and in 2011, he became the conductor of their main choir, "Les Petits Chanteurs," for four years. Christopher furthered his musical expertise through the BLUME HAITI Scholar program at Lawrence University in 2015 and pursued advanced education, obtaining a master's degree in Choral Conducting from McGill University in 2023 under the supervision of Dr. Jean Sebastien Vallée. He has collaborated with various choirs, showcased his versatility and proficiency, and received accolades such as winning the WCDA Conducting Competition. Notable performances include works performed by renowned ensembles such as the Philharmonic Orchestra of Holy Trinity Music School, the Lawrence University Cello Ensemble, the Fox Valley Symphony Orchestra, and the Toronto Mendelssohn Choir. Christopher's artistic endeavors have earned recognition and praise, and his commitment to musical excellence and the transformative power of choral music continues to drive his remarkable career.
More information can be found at: 
christopherducasse.com
.
Agnus Dei
by Christopher Ducasse
SATB with piano – CP 2064 – duration 2:45
SSA with piano – CP 2224
This classic text from the mass has been set by many composers for centuries. Christopher brings a grandeur to the text with long melodic lines in sweet spot vocal registers – very approachable.  The music has an impressive build to a golden-mean climax. The piano accompaniment flows and supports the singers. Singers and listeners will love this contribution to the music world.
Sanctus-Benedictus
by Christopher Ducasse
SATB with piano – CP 2225 – duration 5:40
SSA with piano – CP 2225
blurb needed …..