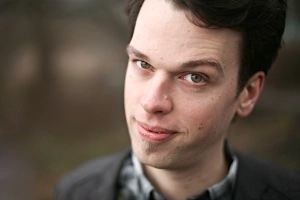 ​Chris Sivak (b. June 14th, 1982) is a talented multi–instrumentalist and composer residing in Victoria, BC. His output covers a wide variety of ground ranging from the soberly serious to the seriously absurd; all lush and lasciviousness, hunting for the perfect musical moment, to manic chamber opera featuring casts of characters out to tickle your funny bone. 
Chris studied music at UBC with Stephen Chatman and Dorothy Chang. He subsequently moved on to become the composer in residence with the Laudate Singers Of North Vancouver from 2014 to 2016 and is an Associate Composer with the Canadian Music Centre.
Chris has been commissioned to write music for The Laudate Singers, The Vancouver Chamber Choir, Red Shift Music Society, The Vancouver Peace Choir, The Amicus Duo, The Nu:BC Collective, and OperaFeHk. Chris is also a freelance writer whose words are often found in the pages of Vancouver's local papers and maintains a blog at 
http://www.chris-sivak.com
where he dissects music in his own quirky way. Chris also loves to cycle, dance, and wear silly socks.
Twinkle, Twinkle, Little Star
by Chris Sivak
SATB a cappella – CP 1999 – duration 6:45
How I wonder what you are
This piece emphasizes the darkness hidden in the iconic children's poem – a first meeting with this piece is always surprising for someone who remembers it from the nursery. The original poem also expresses a thankfulness for a guide through the darkness and I was drawn to the idea of a choral setting that emphasizes this reading. I tried to imagine a traveler lost in the wilderness with no guide save for a supernatural beacon in the sky and the feeling of gratitude they would feel towards it at the crest of the last horizon.