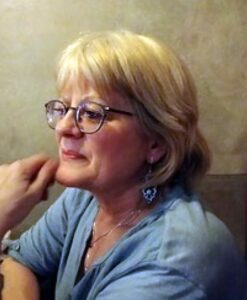 From the pen of Carolynne Davy:
"Music is something we hear but also feel; it encompasses our souls.  I am thrilled to have been a part of this expressive adventure throughout my life. 
I have always loved to sing.  My first solo was at age 3 when I stood on a table at a Howard Johnson's and sang the "Star Spangled Banner" perfectly in tune with all the words.  I made my (then) American (now Canadian) mom proud.  Since then, music has always been a part of my life.
A native of Kingston, Ontario, I received my Honours Bachelor of Music and Master of Education degrees from Queen's University. I also attended the University of Toronto's Opera School, and quickly discovered that I preferred to sing anything but opera, and that I also love to teach.
I performed as a member and soloist with the Elmer Iseler Singers and the Guelph Chamber Choir for many years, and have had a diverse career in both the concert and theatre worlds.  I have been so very fortunate to have sung at such diverse places as Carnegie Hall, the Stratford Festival, Westminster Hall, the Toronto International Festival, the Queen's Plate, and for Prime Minister Chretien.
My vocal and piano studio continues to fill my life with wonderful students, both young and old, and as an accomplished pianist, I also accompany my students and choirs, and conduct musical theatre shows from the keyboard.  In my "spare" time, I continue in my position as music director and cantor at a large church in downtown Toronto, and am the President of the Ontario Registered Music Teachers' Association North York/York Region Branch.  I have served on the Board of Directors for Choirs Ontario, and continue to adjudicate numerous music festivals, and examine voice, piano and various other musical instruments for Conservatory Canada."
Red River Valley
arr. Carolynne Davy
SATB a cappella – KH 087 – duration 2:20
"A traditional song of love and parting from Manitoba – it exists in several versions. In this version, the young woman singing is a native, saying goodbye to a (white) soldier. … in keeping with the song's historical research by Edith Fowke indicating that it was probably written during the Red River Rebellion of 1870." 
Carolynne Davy wrote this arrangement of "Red River Valley" specifically for "The Maple Leaf Forever: A Canadian Panorama" – Dr. Elmer Iseler's final recording with the Elmer Iseler Singers.  Elmer couldn't find a suitable version to record, and asked Carolynne to write one. This is it!.
From this valley they say you are going,
I will miss your bright eyes and sweet smile,
For they say you are taking the sunshine
That brightened my pathway awhile.
Come and sit by my side if you love me,
Do not hasten to bid me adieu.
But remember the Red River Valley
And the girl that has loved you so true.
Cross the mountains and find a new valley,
We will win a new home in the West.
Come back soon, my brave one, come back for me.
And we'll plan for the life that is best.