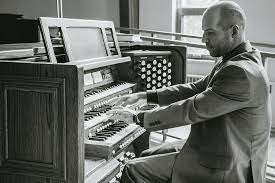 Carmine Lappano was born in 1977 and raised in Toronto, Ontario. Working primarily as a liturgical musician, Carmine is well respected as a Composer/Conductor/Organist, having held appointments in several churches throughout the last 16 years. Carmine has extensive choral experience, having sung with several professional choirs including the Elmer Iseler Singers. Carmine has had the privilege of working with prominent Canadian choral musicians such as Lydia Adams, Eleanor Daley, Jerzy Cichocki and Matthew Larkin. A member of the Royal Canadian College of Organists, Carmine holds a professional diploma in Choral Conducting (Ch. RCCO). He has written several pieces of sacred music for liturgical use, and continues to create music for church choirs of any level.
Cradle Hymn
by Carmine Lappano
text: Isaac Watts
SATB with piano or organ – CP 2230 – duration 3:55
Hush! my dear, lie still and slumber,
  Holy angels guard thy bed!
Heavenly blessings without number
  Gently falling on thy head.
God Be With Us
by Carmine Lappano
SATB a cappella – CP 2097 – duration 3:10
God be with us
Hear our prayer
Bless all those who sorrow
Please heal us with your love and compassion
And protect us all.
Take My Life and Let It Be
by Carmine Lappano
SAB with piano or organ – CP 1977 – duration 2:45
A simple, yet melodious setting of the beautiful text by hymn writer Frances R. Havergal. This piece, written for SAB choir, features a tune that is passed around the voices of the choir to create a lovely contrast for each verse. The piece also has a flowing and gentle piano accompaniment which supports the singers in sustaining each phrase. Suitable for any time in the liturgical calendar, this tranquil anthem will be a pleasure for listeners and singers of any choral ensemble.
Ubi Caritas
by Carmine Lappano
SATB a cappella – CP 1985 – duration 3:20
This beautiful text which is centuries old has been used for the Christian Eucharist traditionally on Maundy Thursday, specifically during the foot washing rite in the Mass of the Last Supper. Set in Latin, the text describes the love of God and how it has gathered all of us into one. Thus, the piece is appropriate for any time of the liturgical season.  The piece uses thick textures and lush harmonies to create that sense of congregation, and the conformity of sound that comes from graceful choral singing.
Ubi caritas et amor, Deus ibi est.
Where charity and love are, God is there.
Congregavit nos in unum Christi amor.
Christ's love has gathered us into one.
Exultemus, et in ipso iucundemur.
Let us rejoice and be pleased in Him.
Timeamus, et amemus Deum vivum.
Let us fear, and let us love the living God.
Et ex corde diligamus nos sincero. Amen.
And may we love each other
with a sincere heart. Amen.