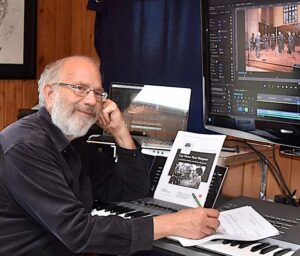 Byron Hermann (b. 1954) directed his first church choir at the age of 15 and has been active in all parts of the choral world since that time.  He studied piano, organ and composition at the University of Western Ontario while at the same time studying for the priesthood at St. Peter's Seminary.  He subsequently moved to Montreal and obtained a MMus degree in Composition from McGill as well as a certificate in Education from Universite du Quebec a Montreal.  This interest in music education led to studies in Toronto at The Ontario Institute of Education and an M.A. in Education.  After graduating in 1985 he received a SSHRC award for PhD studies in Cognitive science specializing in Music Cognition and early emergence of learning strategies in children.  He has won several composition competitions including first prize at the Indiana State University international competition for Orchestral Composition resulting in performances across the United States.  He has also received commissions for choral works from ensembles such as the St. Lawrence Choir, Brass Cats, Goulburn Men's Choir and Nova Voce. He has travelled and performed throughout Asia including ten years in Taiwan where he wrote and produced 8 cd's of children's songs for use in the classroom.  He has taught at Memorial University and continues to write extensively for church choir including anthems, mass settings and psalms.
Byron has a particular interest in electronic music and has composed various electronic extensions to works in studios around the world including IRCAM, Stanford University, M.I.T., SSSP at University of Toronto, Colgate University and McGill EMS. 
He is presently director of music at Stairs Memorial United Church in Dartmouth and sings with the Nova Voce Men's Choir and the Nova Scotia Symphony Chorus and lives in East Dover Nova Scotia.
Lay Down Your Weapons
by Robbie Smith; arranged by Byron Hermann
SATB – with piano and optional instrument – CP 2026 – duration 5:09
TTBB – with piano and optional instrument – CP 2038
Lay down your weapons, lay down your arms
Turn swords into ploughshares, battlefields to farms

Robbie Smith's gentle nature often leads to lyrics that question mankind's long-time propensity for conflict in the name of power and greed. They provide us with "A legacy of love that few can match" (Kathleen Glauser). This arrangement by Byron provides music with a classical feel as the original tune travels back to a folk-style from the Renaissance period.