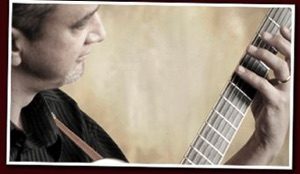 A career songwriter/recording artist residing in British Columbia, Bruce Coughlan is a vocalist, multi-instrumentalist and composer with over three decades of professional experience to draw from. Bruce has been touring throughout Western Canada/USA since his teens, obtaining a keen knowledge of the people and history of the Pacific region, while obtaining a solid background in performing and music. A true bard, (a collector of songs) he possesses an impressive repertoire with literally thousands of popular songs, in addition to hundreds of original compositions. His musical journey has included forays into a variety of musical styles including; Country, Folk, Bluegrass, Celtic, Rhythm & Blues, Roots Music and Adult Alternative.
As instrumentalist (guitar, bodhran, tenor banjo, flute and whistles), Bruce is a solid, articulate player. As vocalist, he's a soulful interpreter who's performed thousands of songs at thousands of gigs in styles too varied to mention. As an artist, he's recorded over a dozen records, and been involved in dozens more. As songwriter, Bruce is devoted to crafting  songs with substance and quality. His current catalogue contains hundreds of songs, many of which are complete masters, available for license. Bruce is an undisputed king of the commemorative ballad and has composed an entire collection (26 songs to date) chronicling historic characters and events that have shaped Pacific Canadian culture.  Bruce is comfortable writing, arranging, and adapting all styles of music.
With a growing list of commissioned works and soundtrack credits, this composer/lyricist/adapter/interpreter is a creative force of rare ability. Bruce Coughlan is a multifaceted talent and will undoubtedly be recognized as a great Canadian songwriter. 
Bring Lolita Home
by Bruce Coughlan   arr. Larry Nickel
SATB with piano  –   CP 1636   – 3:40  


The orca (killer whale) named Lolita was taken from British Columbian waters and ended up at an amusement park in Florida.  This anthem is a timely reminder of our relationship to nature; an easy sing with solid harmonies and a poignant message.
Twenty-three Camels
by Bruce Coughlan   arr. Larry Nickel
SATB – piano with violin or 4 hands  –   CP 1637   – 2:30   


This is a bizarre story – 23 camels hauling gear during the Klondike gold rush!!? Bruce adds another one to his list of Canadian folk songs.  This is one of the funniest – and fas! – a real barn burner.