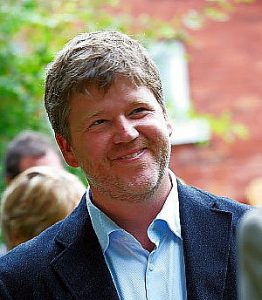 Dr. Benjamin Bolden, (b. 1971) music educator and composer, began his musical career singing in a church boys' choir, and has been singing in choirs ever since. He has also performed in rock bands, concert bands, gamelan ensembles, and for ten years in professional music theatre. Ben studied composition at Carleton University with Patrick Cardy, at UBC with Stephen Chatman, and at the University of Toronto with Christos Hatzis. He has composed for strings, orchestra, wind ensemble, opera, and more, but the majority of his work has been composed for choirs. In 2016 Ben won the Choral Canada Competition for Choral Writing.
Ben is an associate professor and the UNESCO Chair of Arts and Learning in the Faculty of Education at Queen's University, Canada. As a teacher, Ben has worked with pre-school, elementary, secondary, and university students in Canada, England, and Taiwan.
Asikathali
arr. Benjamin Bolden
SA a cappella – CP 1129  
"It doesn't matter if you jail us, we are free and kept alive by hope!" This rhythmic African freedom song is perfect for children's or ladies' choir.
Coventry Carol
arr. Benjamin Bolden
SATB a cappella – CP 1082   – duration 4:30


Part of Ben's trilogy of Christmas carol arrangements, this piece plays puts the traditional tune on a slightly unusual meter, and thereby maintains movement in the piece.
Holly and the Ivy, The
arr. Benjamin Bolden
SATB a cappella – CP 1081 – duration 2:00 


This spunky arrangement requires some agility from the singers and your audience will love it.
I Saw Three Ships
arr. Benjamin Bolden
SATB  a cappella – CP 1080 – duration 2:15


This arrangement is of the less well known, but very playful alternate tune. It plays with numbers and meter, and is a very "fun" challenge for your choir.
Lord Franklin
arr. Benjamin Bolden
SATB a cappella – CP 1698 – duration 4:30
TTBB a cappella – CP 2057

In Baffin's Bay where the whale fish blow
The fate of Franklin no man may know
Tread Softly
by Benjamin Bolden, poem William Butler Yeats
SATB a cappella – CP 1407 – duration 3:30
Winner of the Choral Canada Composition Award (Diane Loomer Award) and premiered by the Canadian National Youth Choir at Podium in 2016, Ben really hit the sweet spot of meaningful and beautiful music for mixed choirs.