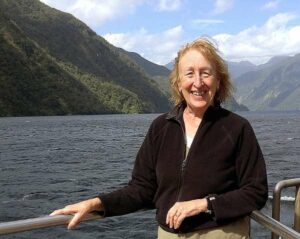 Anne Mizen has been involved in music all her life. As a teenager, She was the organist and choir director of her church in Meaford, Ontario. Following graduation from the Royal Conservatory of Music and the University of Toronto, Anne taught music in elementary schools in Ontario and for many years had a private studio of piano and vocal students. For several years, Anne directed choirs in Catholic, Anglican, and Presbyterian churches and then spent 26 years as music director and organist at Pickering Village United Church in Ajax, Ontario. 
Anne Mizen, along with Thomas Baker, founded the Uxbridge Chamber Choir in the mid 1980s and for many years she was the accompanist and assistant director.  She still participates as a guest singer and accompanist. In the late 1990s, Anne founded the Monday Morning Singers and has been the director ever since.
Gaudete!
by Anne Mizen
SATB a cappella – KH 034 – duration 2:05
Easy to sing and really effective, this piece sounds like a medieval troubadour song in the dorian mode. Up tempo, full of energy, it would make a great introit to any concert – especially during the Yuletide.
When the snow drifts on the hill, And the earth lies frozen,
Come to us Emmanuel, Set our hearts in motion!
Gaudete, Jesu Christus natus est! Gaudete, Alleluia!
There is No Rose
by Anne Mizen
SATB a cappella – KH 099 – duration 2:40
This is a haunting Christmas carol with long, chant-like phrases and a neo-medieval sound. The text is a mix of old English poetry.
There is no rose of such virtue as is the rose that bare Jesu.
A flower of price, there is none such in paradise,
Now in the rose contained was heaven and earth in little space,
A flower of grace against all sorrow, it is solace.
Under the Stars
by Anne Mizen
SATB with piano or organ – KH 110 – duration 4:00
The text of this carol is macaronic, that is, it uses both Latin and English words. The lyrical phrases tell the Christmas story, followed by a hymn-like latin tune. Your choir will enjoy how the two fit together. This piece was a winner in the Amadeus Choir carol writing competition.
Women's Work is Never Done
by Anne Mizen
SSA with piano – CP 1915 – duration 1:35
Short and sweet, quick and syncopated in 7/8 time, this piece is sure to create a stir!