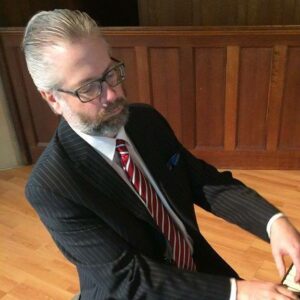 Andrew Ager was described in the Toronto Star as "one of Canada's most intriguing classical musicians".  He is now mainly writing operas which explore a variety of historical and literary themes and orchestral arrangements.  "Venez Divin Messie" was written for the choir of St. Magdalene Church in Toronto in 1995.
Venez, Divin Messie - (O Come, Divine Messiah)
arr. Andrew Ager
SATB a cappella – KH 112 – duration 2:05
Don't you love joyful music in 6/8 time so people can dance a jig and celebrate!? This composition joyfully invites the coming of the Messiah.  It would work well during the Christmas season but would also be a perfect Easter theme. Once again, the world awaits the return of Christ to earth.