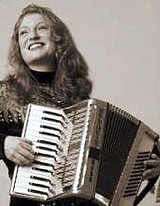 Born in 1967 in Edmonton, Alberta, Amy Stephen grew up in Vancouver, BC and now resides in Coquitlam. The founder and director of Vancouver's Aurora Celebration Choir and the Coquitlam Celebration Choir, Amy obtained a B.Mus. and a B.Ed. from UBC, studying conducting with James Fankhauser, and sang with the University Singers and the University Chamber Singers. Since then, she has sung with various groups around Vancouver, including the Vancouver Chamber Choir, the Vancouver Cantata Singers and Musica Intima. Amy was a founding member of internationally-acclaimed celtic funk ensemble 'Mad Pudding' and is currently a member of Vancouver's World Music Collective. She writes and performs cultural fusion music with her husband, Persian vocalist Amir Haghighi, and is a popular studio musician and performer around Vancouver, playing piano, accordion, celtic harp and penny whistle. 
Lake Isle of Innisfree
by Elsie Stephen    arr. Amy Stephen
SATB with piano or harp    –    CP 1068  3:10
This delightful song, simple and folk-like, uses the famous poem by W.B. Yeats. The tune is by Elsie Stephen, and arranged for choir and Celtic harp (or piano) by her daughter, Amy. 
Punjabi Market
by Amy Stephen 
SATB – a cappella    –    CP 1291   – 3:50
Another girl meets boy story, but this time in colorful India – with typical East Indian motifs and vocal percussion!  This joyful song is certainly relevant for places like Vancouver.
When the Tide Goes Out
by Brian Robertson  arr. Diane Loomer and Amy Stephen
SA with piano    –    CP 1104    


Diane Loomer and Amy Stephen have come up with a delightful arrangement of Brian Robertson's great song. Your young choir will love singing about a feast on the beach, and about being "prepared to shuck the oyster, the clam, or the geoduck". The "ughh" factor may add to the fun! Quite substantial solo work.
Words of Chief Seattle
by Amy Stephen
SATB with piano    –    CP 1064   – 4:40
SSA with piano    –    CP 1234
This song uses the famous speech of Chief Seattle as a text. The themes of respect and honour are complemented by a beautiful tune and simple accompaniment.