featuring the Kiev Symphony Chorus directed by Viktoriia Konchakovska on Feb 20, 2020
watch the video below

Tears for Hiroshima 
(Japanese and  Latin)
That flash of light!
How could I ever forget!
In a moment,
thirty thousand people vanished!
Bring back the fathers Bring back the mothers 
Bring back the elderly Bring back the children 
Bring me back
Bring back the human beings I once knew
For as long as there are human beings, 
a world of human beings,
bring back peace, unbroken peace.
The day of wrath
shall consume the world in ashes
That day is one of weeping
Tears for Hiroshima.
original text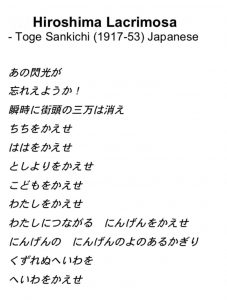 VIEW SCORE
ORDER SHEET MUSIC
SATB – with piano – RFP 011
concerned about the minimum order of 12 copies? no worries – please click here