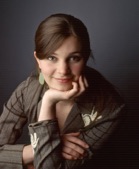 KATHLEEN ALLAN is a native of St. John's, NL, conductor, composer and soprano Kathleen Allan is rapidly becoming internationally respected for compelling performances and engaging compositions. She has recently been appointed as the Director of Choral Studies and Associate Conductor of Orchestras at the Vancouver Academy of Music. She is the assistant conductor of the Vancouver Bach Choir, and has held conducting positions with St. Michael's Choir School, the Yale Glee Club, the Vancouver Bach Children's Chorus, and in 2013, was the Conducting Fellow of the Canadian Chamber Choir. She is the founding co-artistic director of Arkora, a new chamber music collective dedicated to interdisciplinary performance. Her compositions have been commissioned and performed by ensembles throughout North America, Europe, and in Argentina, where her work was featured at the World Symposium on Choral Music.
Also in high demand as a soprano soloist and professional choral singer, she has appeared as a soloist with the National Broadcast Orchestra of Canada and Berkshire Choral Festival Choir, the Vancouver Symphony Orchestra and the Vancouver Bach Choir. In addition to freelancing regularly in Canada and the United States, she is a member of the Vancouver Chamber Choir and has sung with the Vienna-based Arnold Schoenberg Chor, Skylark Vocal Ensemble in Atlanta, and the Yale Schola Cantorum. A passionate interpreter of new music, she has premiered over two dozen works for the voice.
Upcoming engagements include conducting Handel's Messiah and Bach's Christmas Oratorio in Japan, music-directing the Citadel Theatre's presentation of Alice Through the Looking Glass in Edmonton, and premieres of new commissions by ensembles throughout North America. She holds a degree in composition from the University of British Columbia and a master's degree in choral conducting from Yale University.
Waiting for You
by Craig Cassils
SATB with piano – CP 1846 – 3:20
Waiting for You is a peaceful and contemplative anthem that invites us to spend the time of Advent not only waiting but also preparing our lives for the Christ Child. Opening with a unison statement of the melody, the anthem moves to a lovely four-part harmonization of the now familiar melody. Creatively playing on the word "waiting," descending phrases move between the alto and tenor sections in the B section to emphasize the text "waiting for you." An interchange between the men's and women's voices moves to the final ending.